Product Description
Healthcare/Washable/Universal/Learning/waterproof remote control
All tv remote control replacements
LPI-W053-URCU-V3.0
UNIVERSAL
LEARNING, ONE STEP COPY
INFO@LPINTE.COM
Q1: IF We cannot find the brand code in the List, How to control my TV?
A1: It is a good question. as you know, the model also learning programmable.
If you can not find the right brand code, or the code does not work for your TV.
You can Learn it.
Q2: We need 10pcs to replace our hotel tv, if need to learn it, any quick step to got 10pcs?
A2: Good idea. Yes, this Model support ONE STEP TO MASS COPY 2+
After you learnt the 1st one button by one button. just ONE STEP set up to copy the 2ND, 3RD....
The LPI-W053-UPRCU V3.0 universal learning splashproof remote control has an IP67 waterproof rating allowing use in wet areas and even floats when dropped in the bath.
The 4 in 1 remote control is designed to allow the user to control up to three different devices by using the TV, SAT and DVD buttons to select which device is to be controlled
It is pre-programmed with over 2000 codes for TV's, Satellite Receivers, DVD players and VCR Recorders. Auto search or direct entry makes it easy to select the pre-programmed brands.
The remote control also has the facility to directly learn remote control codes from other infrared remote controls. This allows the remote control to learn up to 48 functions for each chosen device. The remote control can be used in replace of the Sky™ satellite receiver remote control. Enabling control of both the Sky™ satellite receiver and others from a single remote control
IR codes from any other IR Remote Control can be copied with the head to head learning function and assigned to any button except SET/CABLE/TV/SAT/DVD five buttons.
One more smart function is that after you learnt the 1st remote from any ORIGIN remote one button by one button, you no need learning the 2nd like previous intricacies one button by one buttons. You only set up one step that help you easy copy full codes from the 1st learnt remote.
TV BRANDS
Sharp,Sony, LG, Samsung, Vizio, JVC,Pioneer, Philips,Panasonic,Hitachi
Waterproof tvs, lcd tvs, hotel tvs....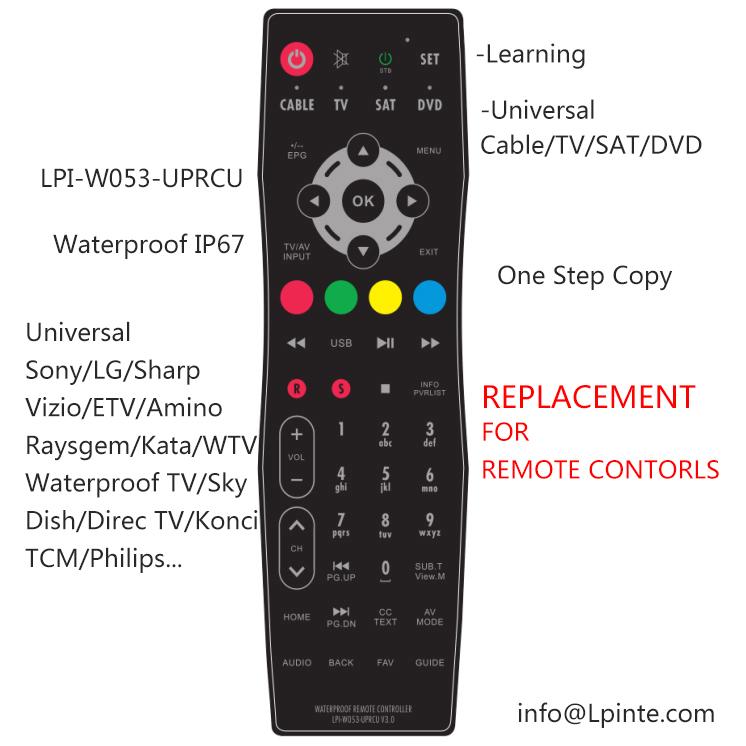 Price Terms︰ EXW
Payment Terms︰ TT
Packing︰ BULK PACKAGE
Lead Time︰ 20
Product Image